How Doug's Dog Walking Began
The day after Christmas, December 26, 1994, I opened my front door and was greeted by a stray cat whose fur was a mess. I guess he had been rummaging through the trash looking for food because he was covered with something red and sticky that looked like sweet and sour sauce and had bits of noodles and fried rice stuck to his fur. He was a very friendly young Himalayan with beautiful blue eyes and he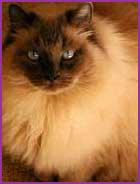 looked to be in good health. I gave him some of my housemates' cat food and some water and went about my business. When he returned for dinner after a day of serious self-grooming he looked like a completely different cat. He was so affectionate and charming that after about aweek I decided that I wanted to take him in. I named him Gong Li, after the Chinese movie star I was infatuated with at the time. So what if it's a girls name. He didn't know it was.
After deciding to keep him I brought him in to a local vet to have him checked out to make sure he was healthy and to have him vaccinated. While I was there I noticed a small flyer on the bulletin board. It was put there by a lady who was looking for someone to walk her 11 month-old German shepherd puppy. I copied the number and met Tamara and her dog Zoe the next day. We had a meeting to get acquainted and then I took Zoe for a short walk to see if she would go with a complete stranger. Of course she was thrilled to go for a walk with me, she was an energetic puppy, and we bonded almost immediately.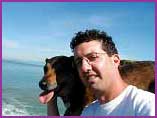 A few weeks later I began walking Zoe every weekday around noon. We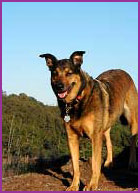 explored all the parks and beaches we could find in San Francisco and we worked on somebasic training. A few months later I met a few other dog owners who wanted me to walk their dogs as well and they were willing to pay for my service. That's when I realized that maybe I could support myself by walking dogs so I went home and made up some business cards on my housemate's computer and began passing them out to people I'd meet at the parks. After a few more months I had about five or six dogs that I would walk regularly and from then on I would find new clients solely from word of mouth or referrals. If it weren't for Gong Li and Zoe, Doug's Dog Walking would have never been born.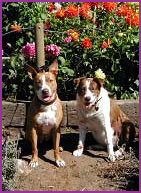 In November of 1995 I moved into a house with a woman named Annette that I met at Dolores Park. She had two dogs, Rosa and Ashley, and three cats, Calvin, Jordan and Blair. Rosa was a red-nosed pit bull that Annette's previous housemate had rescued but then decided to leave with Annette when she moved back east. I was thrilled with this decision because Rosa and I bonded and I took the roll as her proud new father.
Unfortunately, at that point my business was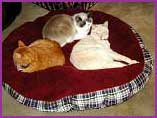 less than a year old and only marginally profitable so I didn't think I was going to be able to afford to live with Annette since her place was a little more expensive than my previous one. Thankfully, we agreed on an arrangement for me to walk Rosa and Ashley every morning in exchange for utilities, garbage
and cable. Not a bad deal huh?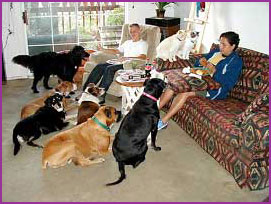 Over the years Annette has been the best housemate I could ever ask for. We have a great relationship and she and her pets have accepted Gong Li and I into their family. Annette also does some pet sitting for many of her friends and co-workers so we help each other out with pet duties from time to time. When we have four-legged guests stay with us they get so much of love and attention, plus the companionship of our animals, that they often don't want to go home!